March 21, 2022 Live Reset Group
Are you ready to feel AMAZING!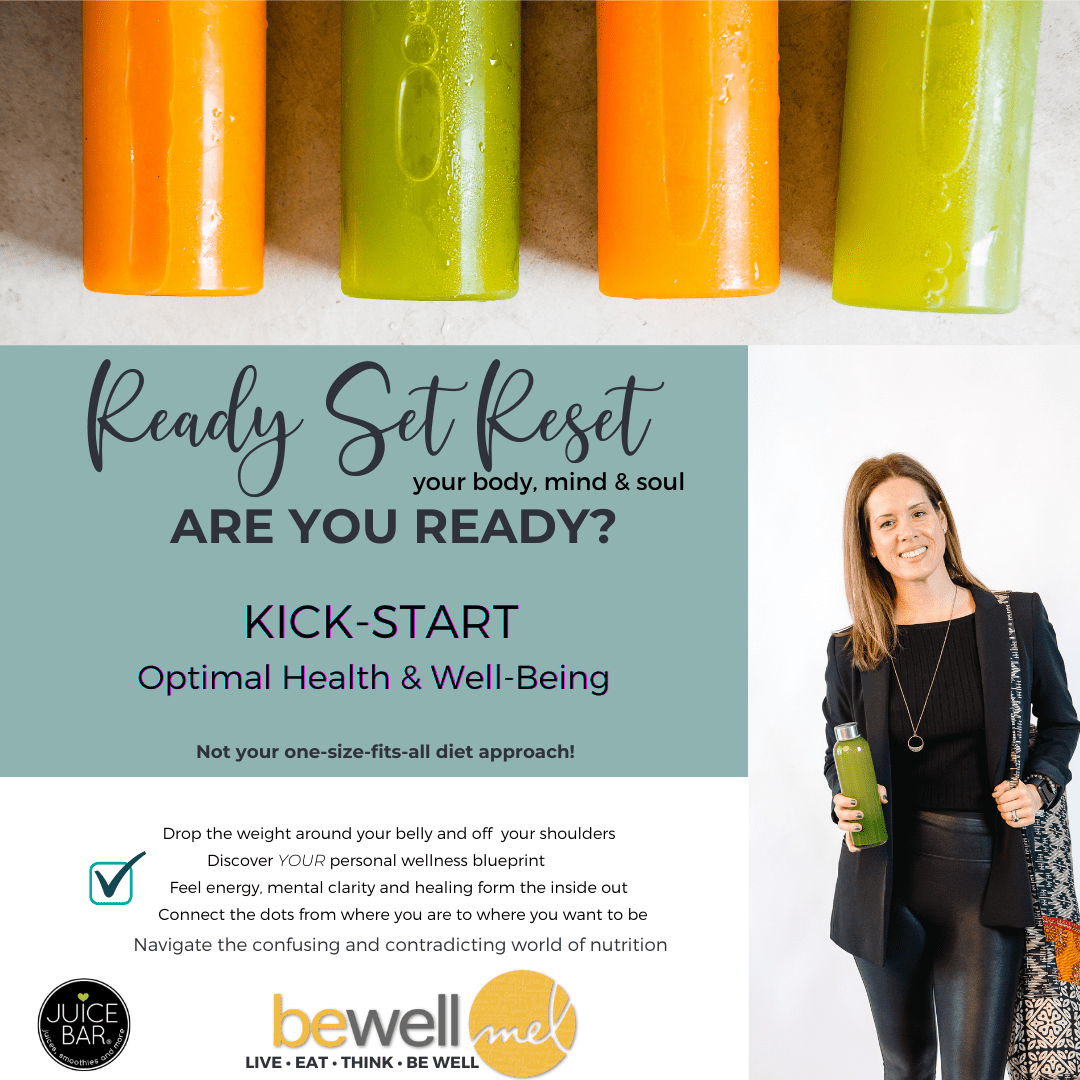 "I really appreciate all you poured into helping me get to where I am. Down 26lbs, focusing on me instead of being an after thought, and having a healthier relationship with food both on & off my plate!"
RSR is a data and research driven program
designed to reset your Body, Mind and Soul and kick-start you on a journey towards optimal health and well-being.
Think cellular level nutrition meets spiritual being 
Simple, safe and effective!
We start off on a juice cleanse with the support of my AWESOME partner Juice Bar Franklin ( or a local juice bar in your neck of the woods). Over the course of the program we'll focus on mindfulness, healthy whole foods, eliminate a short list of inflammatory foods and toxins and engage in lifestyle choices to get you RESET, energized, mentally clear and feeling good from the inside out.
This program has been several years in the making. I have spent the last 12 years learning, researching and testing this protocol.
Research shows it takes 21 days to make or break a habit and 60 days to create a sustainable shift!
Overview of the "diet and protocol":
The goal is to reset the digestive system, flood the body down to a cellular level with nutrition all while releasing and ridding the body of toxic build up.
For 21-days you will cleanse your system inside and out with the powerful benefits of juicing, follow a short elimination protocol and be supported by me and community for 60 days. You will slowly wake your digestive system with a step-by-step easy to follow process. By day 4 you integrate healthy fats, proteins and nutrient dense whole food. Supported by healthy lifestyle and well-being practices.
WHY RESET?
Kick-start achieving

optimal health and well-being

Give your digestive system a break

Release toxic build up

Flood your body and soul with the

nutrition

it deserves

Increase vitamin, nutrient and mineral absorption

Deconstruct and eliminate

cravings

Feel lighter, energized, mentaly clear, focused, mellow and more balanced

Sleep better

Get healthier skin, hair and nails

Identify food sensitivities

Know which foods are right and wrong for you

Navigate the confusing and contradicting world of nutrition

Get out of the revolving door of diet plans

Connect with your personal food and lifestyle blueprint

Start fresh, release and let go of what's not serving you

Drop 2020 pandemic habits

Frustrated and suffering from

pesky issues like:

Extra unwanted pounds

Digestive distress - bloating, gas, and/or constipation, diarrhea

Mental fog

Feeling scattered, even anxious

Headaches, joint, muscle and body aches and pains

Inflammation

Low energy and fatigue

Trouble sleeping

Food intolerances (

Experts say that as much as 20% of the population suffers from a food intolerance.

https://pubmed.ncbi.nlm.nih.gov/18584930/

)
"Melissa is a supportive and knowledgeable resource. The Ready Set Reset program is an effective way to identify possible food triggers and get on the path towards better health. Highly recommended!"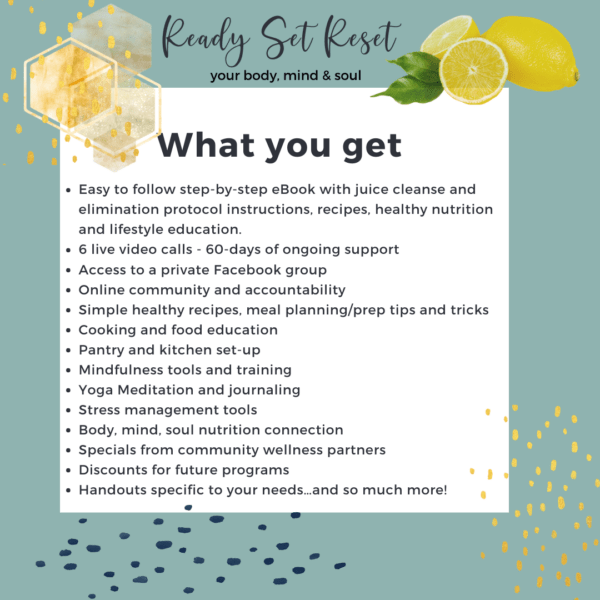 RESET OPTIONS 
Join the

live

group starting April 18th, 2022
20-minute private coaching session on the front and back end with me.

60-days of ongoing support

eBook guide with recipes to support your reset

Private Facebook group

6 live video calls

Self-investment -

$349 (Sign up by March 9th for the Early Bird Savings $249

Less than $5 a day -(my old Starbucks habit cost far more) Which habit could you swap?
2. Extra small group coaching - gather a group of friends and get an extra weekly small group private coaching zoom call with me. 
20-minute private coaching session on the front and back end with me.

60-days of ongoing support

eBook guide with recipes to support your reset

6 live video calls

Self-investment -

$449

(Sign up by March 9th for the Early Bird Savings $349)

Less than $7 a day (I know I can spend more than that on monthly wine and coffee consumption.) Think of all the money you will save!?!
3.  Ala cart eBook program - You will self-guide and follow along with the eBook- Coming Soon
In our 60-day group program, we work together to find food and lifestyle choices that best support you.
We'll focus on a holistic approach to discovering your personal nutrition and wellness blueprint.
We will connect the dots on who you are and where you want to be by taking gradual changes.
I believe small, simple steps create sustainability.
Let this be the year you finally focus on food and lifestyle choices that best suits your health and wellness dreams.
The group will be supported and sponsored by the very best health care practitioners and purveyors our community has to offer.
Click here to chat with Mel
I learned new ways to approach not only nutrition but every aspect of life that affects my bio-individuality...physical, mental, spiritual, emotional. I don't have the space to name the vast array of tools she gives her clients that provide help and healing (but meditation is a very powerful one!). On a practical level, she taught me to expand my view of grocery shopping, and I now have a relationship with several different grocery stores and moved out of the rut I was in.Rachel Johnston
---
Why Join a Group
1. A Personal Support System
Group coaching gives you the opportunity to share your feelings with others and develop deeper connections, making your sessions more meaningful. Knowing you are not alone in your journey will help you develop the confidence and motivation to address your challenges and succeed.
2. Higher Likelihood of Achieving Goals
You're much more likely to stick to your gym routine if you have a gym buddy, right? The same is true with group coaching. When individuals are part of a group, they procrastinate less, accomplish more, and reach their goals faster.
3. Benefit from Collective Wisdom
You'll brainstorm solutions, open creativity channels, and uncover opportunities you may not have discovered working solo. Have you ever been in a study group where you've learned from a classmate who gets it? Other group members help you master new concepts like a pro!
4. Gain a New Perspective
When you work alone, you examine situations from one perspective – yours. But when you work in a group, you're exposed to a variety of insights that empower you to see a situation from multiple angles and motivate you to develop new solutions. Ever get a precious nugget of advice from a really honest friend that you just couldn't see on your own? It's like that.
5. A Great Value
Get the same quality coaching, but at a fraction of the cost of individual coaching. Group coaching is a smart and affordable way to receive top-notch guidance.
6. A Team Invested in Your Success
When you work in a group, the whole team celebrates your success. Just like when a hockey player scores a goal, resulting in a win for the entire team. In this case, no ice skates are required!
7. Turn Work into Play
It's more fun to go out to dinner with friends than by yourself, right? Working with a group is a social event that participants look forward to. You'll join a close-knit group that is energizing, motivating and most of all – fun! Group members often become lifelong friends.
Melissa's health coaching group was such a fun and informative way to approach health! This is not a one-size-fits all group! Everyone brought something unique to the table, and she worked with each individual to find what works for them. We took a whole-istic approach and uncovered other ways of being healthy, besides what is just being served on your plate.Kyle Casserly