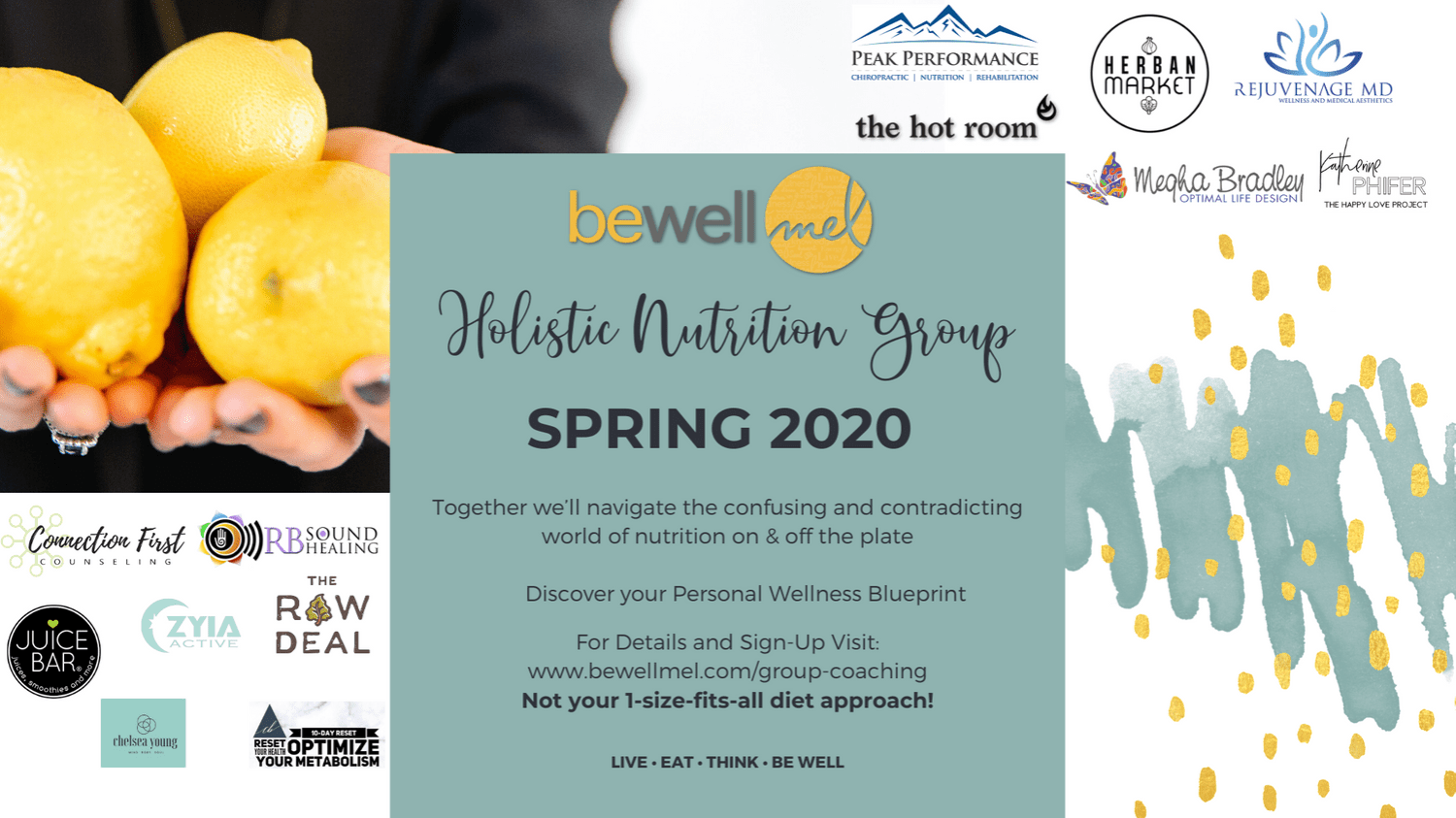 Melissa's health coaching group was such a fun and informative way to approach health! This is not a one-size-fits all group! Everyone brought something unique to the table, and she worked with each individual to find what works for them. We took a whole-istic approach and uncovered other ways of being healthy, besides what is just being served on your plate.Kyle Casserly
Ready to accomplish your goals in a way that's empowering and exciting?
In our 1-month group program, we work together to find food and lifestyle choices that best support you.
The group will be supported and sponsored by the very best health care practitioners and purveyors our community has to offer.
We'll focus on a holistic approach to discovering your personal nutrition and wellness blueprint.
We will connect the dots on who you are and where you want to be by taking gradual changes.
I believe small, simple steps create sustainability.
Let this be the year you finally focus on food and lifestyle choices that best suits your health and wellness dreams.
I learned new ways to approach not only nutrition but every aspect of life that affects my bio-individuality...physical, mental, spiritual, emotional. I don't have the space to name the vast array of tools she gives her clients that provide help and healing (but meditation is a very powerful one!). On a practical level, she taught me to expand my view of grocery shopping, and I now have a relationship with several different grocery stores and moved out of the rut I was in.Rachel Johnston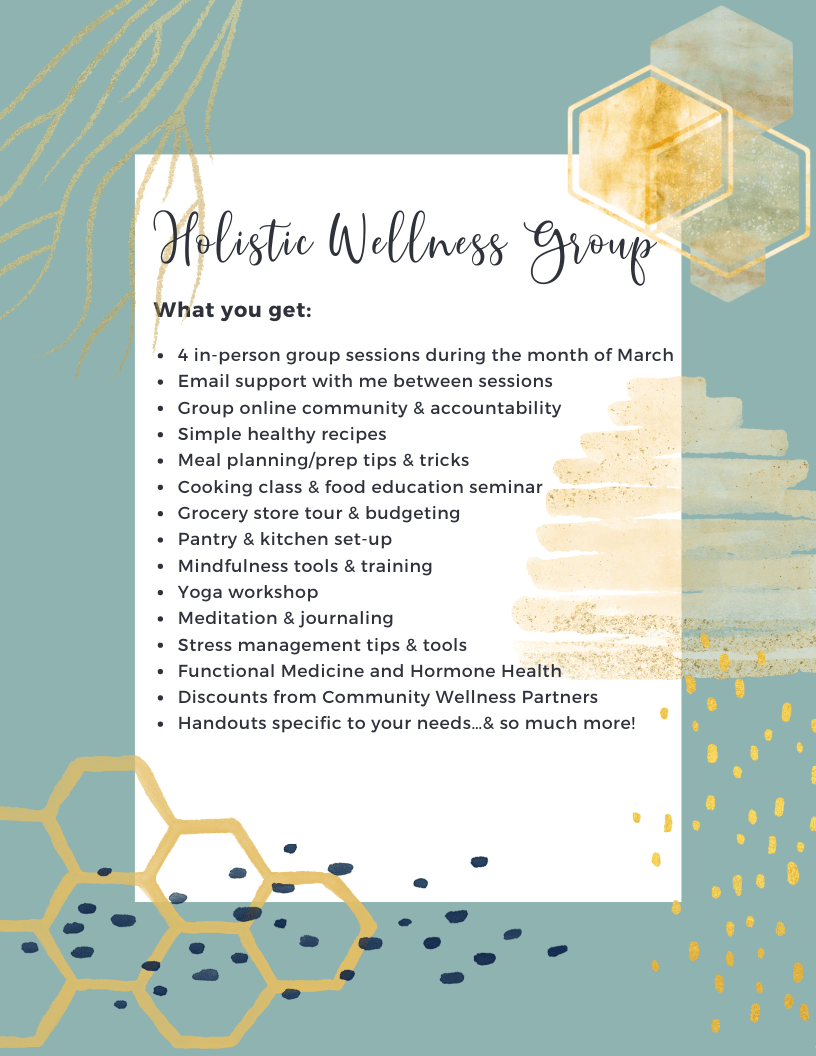 THE DETAILS
Beginning March 2 11:30-1:30 and 6:30-8:30
In this 5 week program, The Be Well Mel Holistic Nutrition Group, we will meet in person 4 times.
March 2, 9, 23, 30 The week of March 16th we meet in the facebook group.
Week 1: AM/PM meets at Rejuvenage
We begin at Rejuvenage Health and Wellness in Franklin, TN with information and support from myself, Dr. Oomman (Neurologist) and Dr. Kumar (Medical). Topic we cover include holistic nutrition, healthy sleep routine, hormones and self care. Group members will choose an individual diet in which they will be supported throughout with a step-by-step guide.
I am trained in over 100 different dietary theories and will help each participant custom choose and commit to an eating plan. Past participants have successfully completed Supplemented Supported Detoxes, Juice Cleanses, Elimination Diets, The Whole 30, Plant Based, Low Glycemic Index, Anti-Inflammatory, Keto and many others. The sky's the limit.
Week 2: AM meets at the Hot Room Yoga & Wellness Center in Brentwood, TN. PM meets at Peak Performance Franklin, TN. We will turn the focus to mindfulness during week two. I will share yoga, meditation, journal practices, tips, tools and tricks to kick off the group's sustainable mindfulness journey.
Week 3: Week three is a by-week supported through the socials. The group will operate through our private Facebook group during this week. All of the sponsors will communicate with the group during this week by sharing helpful, supportive content in a Q&A fashion with posts and Facebook Lives. (details to sponsors on March 1)
Week 4: We meet at Whole Foods Franklin, TN. We embark on a grocery store tour in week four. We will take a behind the scenes tour with important tips on how to shop healthy on a budget, grocery lists, healthy snack list, food labeling, and understanding packaging claims.
Week 5: We meet in The Be Well Mel Kitchen, Franklin, TN. We celebrate the group's completion with a cooking class. I will teach the group participants on how to set up the kitchen and pantry for success. I showcase how to make B.L.D. (Breakfast, Lunch and Dinner) in under 20 minutes for all three meals with easy, simple meal prep. I also share key kitchen tips and tricks showcasing Herban Market's olive oil and vinegar in all of my kitchen creations.
Self Investment:
2 easy payments of $298.50 or paid in full by March 1 $495
Click here to chat with Mel
Why Join a Group
1. A Personal Support System
Group coaching gives you the opportunity to share your feelings with others and develop deeper connections, making your sessions more meaningful. Knowing you are not alone in your journey will help you develop the confidence and motivation to address your challenges and succeed.
2. Higher Likelihood of Achieving Goals
You're much more likely to stick to your gym routine if you have a gym buddy, right? The same is true with group coaching. When individuals are part of a group, they procrastinate less, accomplish more, and reach their goals faster.
3. Benefit from Collective Wisdom
You'll brainstorm solutions, open creativity channels, and uncover opportunities you may not have discovered working solo. Have you ever been in a study group where you've learned from a classmate who gets it? Other group members help you master new concepts like a pro!
4. Gain a New Perspective
When you work alone, you examine situations from one perspective – yours. But when you work in a group, you're exposed to a variety of insights that empower you to see a situation from multiple angles and motivate you to develop new solutions. Ever get a precious nugget of advice from a really honest friend that you just couldn't see on your own? It's like that.
5. A Great Value
Get the same quality coaching, but at a fraction of the cost of individual coaching. Group coaching is a smart and affordable way to receive top-notch guidance.
6. A Team Invested in Your Success
When you work in a group, the whole team celebrates your success. Just like when a hockey player scores a goal, resulting in a win for the entire team. In this case, no ice skates are required!
7. Turn Work into Play
It's more fun to go out to dinner with friends than by yourself, right? Working with a group is a social event that participants look forward to. You'll join a close-knit group that is energizing, motivating and most of all – fun! Group members often become lifelong friends.