Holistic Wellness Group
January 14, 2019

-

March 25, 2019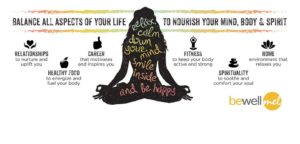 Are you feeling stuck and confused by the contradicting world of nutrition?
No one diet works for everyone!
Tired of one-size-fits-all approaches to dieting?
Overwhelmed by daily life stress?
Drained from toxic relationships?
Fed up with nagging cravings?
Want to feel great in your own body?
Ready to accomplish your goals in a way that's empowering and exciting?
In our 3-month group program, we work together to find food and lifestyle choices that best support you. We'll focus on a holistic approach to discovering your personal wellness blueprint. We will connect the dots on who you are and where you want to be by taking gradual changes. I believe small, simple steps create sustainability. Let this be the year you finally focus on food and lifestyle choices that best support your health and wellness dreams.
What you get:
*Two 90-minute group session per month for 3 months
*Email support with me between sessions
*Group online community and accountability
*Simple healthy recipes
*Cooking class and food education seminar
*Grocery store tour and budgeting
*Pantry and kitchen set-up
*Mindfulness tools and training
*Yoga and movement techniques
*Meditation and Journaling
*Handouts specific to your needs…and so much more!